Stay cool all season long
Builders Service Aluminum Products can help you do just that with our quality and affordable mist fans.
Our mist fans at Builder Service utilize state of the art evaporative outdoor cooling technology to cool outdoor spaces. Our Zone Pump Misting System forces water through a specialized Uni-Nozzle System for maximum efficiency and cooling.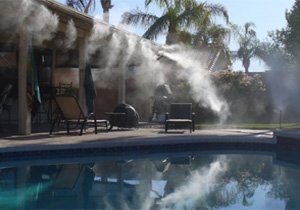 Outdoor Cooling Misting Systems Benefits:
Everyone stays COOL and DRY
Zone Pump System
1000psi of flow ensures evaporation
Customize cooling areas to exact specifications
Misting Systems has specialized all weather fans move cool air to desired location
Ceramic nozzles in our misting systems resists corrosion and clogging
Minimal operating costs for maximum outdoor cooling
Custom design a system for your home or facility.
Whether you are building a new home or want to add a system to a pre-existing home, we have a system for you. You will be able to enjoy the cherished outdoor activities around your home with friends and family without being bothered by heat professionally installed outdoor cooling system from Builder Service Aluminium.
Have a restaurant with outdoor seating?
We can turn unusable outdoor summer restaurant seating into a comfortable profit center. Our misting systems use evaporative cooling to reduce the temperature of an outdoor space by as much as 20 degrees, without getting your customers wet. With a state-of-the-art outdoor cooling system will increase customer traffic and give you that distinct niche over your competitors.
Contact Builders Service Aluminum Products today at 904-797-1739 for more information about our quality mist fans.