Transform your current house into your dream home by adding a touch of class and style to your home with new vinyl siding
Add a touch of class and style to your home with new siding from Builders Service Aluminum Products.
Our Siding has a natural appearance that gives you the look you want without the high price and maintenance. Our long history of skillful work and sound advice has built us a strong reputation in home remodeling and home renovations since 1980.
Get the siding you want at prices you can afford
Vinyl siding, offers unparalleled beauty and distinctive style to your home. With its natural, realistic wood grain texture and low-gloss finish, vinyl siding comes in a full range of styles and colors, designed to deliver superior performance and added curb appeal.
Using quality siding products, such as Kaycan
Unlike stone, brick and cedar, Kaycan siding products have the strength, durability and weather resistance necessary to maintain its beauty by withstanding the effects of time and the elements.
Vinyl and Aluminum Soffit is Attractive and versatile
Vinyl Soffit gives your home a finished look and virtually eliminates maintenance in those hard-to-reach areas, like under eaves and over porches. With the beauty of painted wood and the durability and low maintenance of vinyl soffit are available in either a woodgrain finish or smooth with a low-gloss finish. Perfect for use with brick, wood, vinyl or fiber cement siding.
Dress up the bottom section of your Manufactured Home or Deck
A vinyl skirting system is the perfect solution to provide a clean and professional look for decks, porches, and it adds that finishing touch to foundation surrounds and manufactured housing. Sanitary and easy to clean, insect and vermin resistant, and easy to install.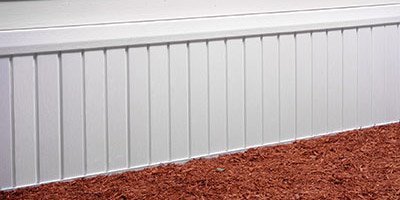 Looking for custom fascia or break metal?
We excel in custom fabrications such as fascia, flashing, eve drip, chimney tops, and more. With a variety of colors and sizes, we can manufacture custom break metal to your needs.
All of our work is protected by at least a 1 year warranty plus the manufacturer's protections on its product. Contact Builders Service Aluminum Products today at 904-797-1739 for a free estimate.